Most of us love real flowers, but wedding flowers can be very expensive here are a couple of tips that will help you keep the price down.
Use only a few of the more expensive blooms and use lots of cheaper blooms to fill out your arrangements.
One of the best tips is to only use flowers that are in season at the time of your wedding. As out of season flowers can cost phenomenally more than ones in season.
With this in mind I am puttng together lists of flowers available by season At the end of this post You will find the Spring list Next week I will be listing summer.
A good florist will help you with these tips, if they do not mention this. Then inform them that this is what you want or look for another florist.
Spring
Agapanthus
-- Also known as African lillies, These are large very striking flowers.
Anemone
-- available in a wide range of colours, these are delicate blooms
Anthurium
-- Very exotic, Waxy looking blooms
Aster
-- These are like daisys on very straight stems
Bouvardia
-- clusters of small, tubular flowers.
Calla Lily
-- Available in white and some other colours. although some colours are not in season throughout the year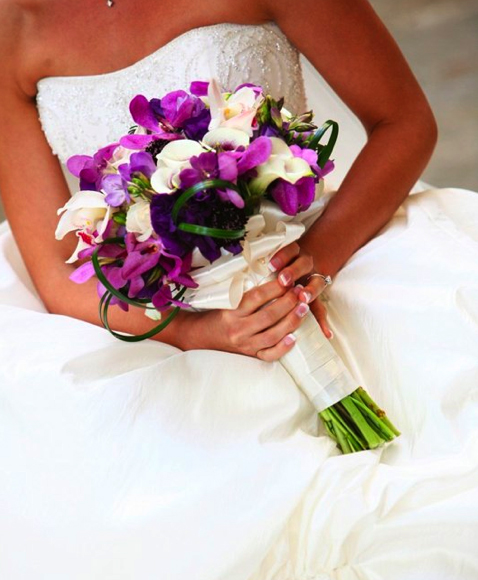 Bouquet features mokara, cymbidim orchids, lisianthus, scabiosa, freesia, calla lilies and lily grass.
Carnation
-- These are great as they are long lasting
Cherry Blossom
-- very delicate blossoms
Cornflower
-- Not just blue as you might expect, you can get pinks. lilacs and even reds
Chrysanthemum
-- If you want show, then these large blousy flower heads are for you
Cymbidium orchid
-- With up to 12 flower heads a stem, you get a lot of blooms with these orchids.
Delphinium
--Mostly available in Blue lilac and white but pink and yellow are also available tall flower spikes
Forget-me-not
-- tiny blue flowers on short stems.
Freesia
-- Various colours are available. highly scented flowers
Genista
-- A variety of bloom masses of tiny flowers on straight stems Available dyed in many colours
Gerbera
-- Daisy like flower, Wide variety of colours great for contemporary events
Gloriosa
-- Very dramatic flower
Heliconia
-- tropical flower.
Hyacinth
-- Variety of colours and beautiful fragrance
Hydrangea
-- Variety of colours, Large heads of flowers
Iris
--Not long lasting. but popular bloom
Lily
-- lilies are available throughout the year, but not in all colours.
Lily of the valley
-- Has a lovely scent, tiny white bell flowers. Tends to be pricey
Lisianthus
-- popular and used as an alternative to roses and available in various colours.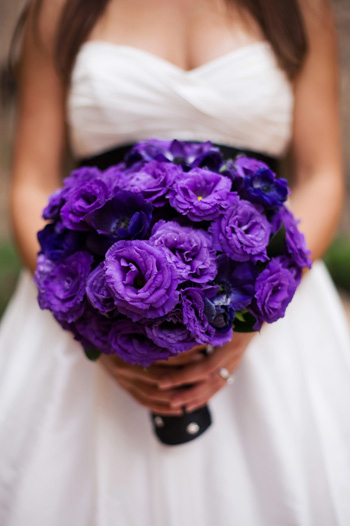 Muscari
Also known as Grape Hyacinth, Can be seen in 1st image
Narcissus
-- Including daffodils , Nothing screams spring more than these beautiful flowers
Nigella
-- Delicate. flowers, very papery. Also called Love in a Mist
Oncidium Orchid
-- small yellow flowers along the stems.
Phalaenopsis orchid
-- large flower, perfect for a wedding bouquet.
Phlox
-- popular country garden flower.
Ranunculus
-- delicate, papery flowers. Wonderful for romantic weddings.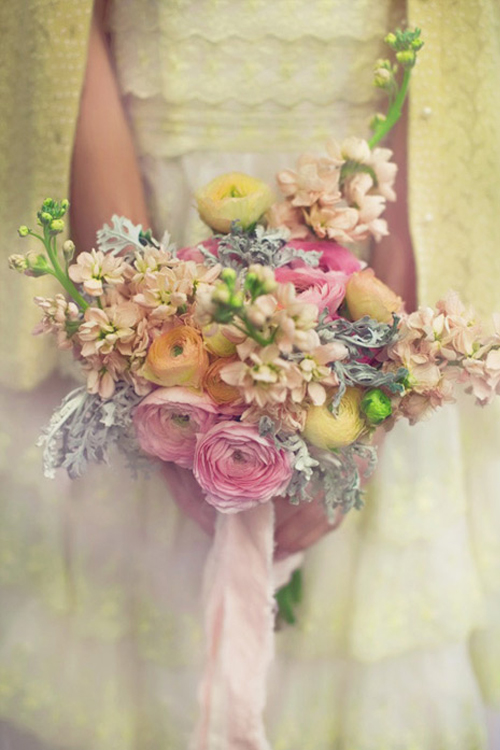 Ranunculas bouquet image from
www. bouquetweddingflower.com
Rose
-- needs no explanation! Available in almost every colour.
Stephanotis
-- individual white, waxy flowers. Make wonderful buttonholes and bouquets.
Sunflower
-- striking flower usually in yellow.
Sweet pea
-- short lived. Wonderful colours and scents.
Sweet William
-- country garden flowers
Tulip
-- a very popular cut flower with many different varieties.
If your looking for inspiration for bouquets take a good look at
www. bouquetweddingflower.com
I hope that you find this series of posts informative and useful.
If you are getting married in the North West, and need help with finding wedding flowers, or other wedding planning help
please visit us at
http://www.rattytattydesigns.co.uk/
or feel free to ring 01270 215625 to book an appointment